The Club DNA Vehicle Etching System
$29.99
Purchase The Club DNA Vehicle Etching System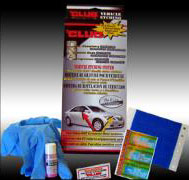 Helps Deter Theft/Indentify Stolen Vehicles
Do It Yourself
Two Systems in One
Unique Code Assigned by The Club® Etched into Glass
DNA Trace Marking System is embedded into metal and can ONLY be seen by an Ultra Violet Black Light
Purchase The Club DNA Vehicle Etching System
Other products in the category Automotive / Vehicle Safety & Security:


Auto Finder -- Auto-Finder Essential Kit * Points to your car from up to 1/2 mile away * Directional LED arrows show the way to your car day or night * One "Locate" push button for activation * A speaker that produces tones proportional to correct direction * No Monthly fees * No loud horns or flashing lights coming from the car * One touch design guides you to safety * Interchangeble between cars * Does not require open sky like GPSIncludes1 Beacon with batteries1 Pointer Remote (Fynder) with batteries, belt clip and instruction guide.
The Club Personal Vault -- Great for securing other valuable items left in a vehicle, Hotel Rooms, Camp Sites, RV's, Boats, Offices and many other places A perfect place to store your valuables Secures under vehicle seat with a cable Quickly attaches to seat mounts in your car Black color keeps it out of sight Has a separate plug so that the cable is not needed Made of strong aluminum and steel. The braided steel cable is polyurethane coated. 2 keys Inner Dimensions 7 3/4 x 5 3/8 x 2 1/2 Outer Dimensions 8 1/4 x 6 x 2 3/4
Vehicle Safe -- Great for securing other valuable items left in a car Secures under car seat with a cable Fits small handguns 2 keys Inner Dimensions 7 3/4 x 5 3/8 x 2 1/2 Outer Dimensions 8 1/4 x 6 x 2 3/4
The Cat Cuff -- Catalytic Converter theft is an increasing problem in North America. The Cat Cuff's cable system secures the catalytic converter to the frame of the vehicle, deterring theft. D.I.Y. installation within 30 minutes...only tools needed are pliers and socket wrench Intended for SUVs, Vans, Pickup Trucks and Industrial Trucks
Vehicle Entry/Exit Strap -- This adjustable door frame strap makes it easier for you to get in and out of any vehicle. The handle helps you lift yourself up as you get out of the vehicle and helps you lower yourself into the vehicle.
Wide Angle Rear-View Mirror -- This wide angle rear view mirror is easy to install over existing mirror. It will give you a better view to help eliminate blind spots when backing up the vehicle or while driving.
Vehicle Swivel Seat -- Rotating 360° Swivel Seat Cusion makes getting in and out of the vehicle easier for adults. Also can be used on chairs in the home.
Blind Spot Backup Alert Safety Device -- The Blind Spot Back Up Alert is an electronic product from the makers of The Club® steering wheel lock. Once installed, it detects objects in the "back up" path of your vehicle and warns the driver of objects in their path. When used properly, this system reduces the likelihood of personal injury, vehicle and property damage. Features: 2 Level Audible Warning to Driver. (Early & Immediate) Easy-to-read LCD display Note: May require professional installation.
StoreFront
the club
lock
vehicle
car theft
auto theft
anti theft
security
automotive security
steering wheel lock
padlock
vehicle theft
deterrent
immobilizer
hardware
Winner International
ecommerce software
powered by Nexternal